PORTFOLIO
PORTFOLIO
Züblin's portfolio performed solidly despite challenging conditions and another property was fully let. Züblin generated rental income of CHF 8.8 million in financial year 2022/23 and the portfolio value was revalued upwards by 0.9% to CHF 227.1 million.
Portfolio continues to develop well
The total value of the portfolio, which as before consists of six properties, amounted to CHF 227.1 million as at 31 March 2023. Investments of around CHF 0.8 million combined with a higher valuation led to an increase in value by CHF 2 million. The rise in discount rates by an average 43 basis points due to higher interest rates was largely offset by successful lettings and higher rental income from indexed rental contracts.
Portfolio data
As of the balance sheet date, annualised rental income amounted to CHF 9.0 million compared to CHF 9.1 million in the previous year. The decline primarily resulted from the regular lease expiry of a long- standing tenant at Morgenstrasse 136 in Bern. On the other hand, rental income was boosted by the property in Baden becoming fully let during the financial year. The overall vacancy rate rose slightly to 8.9% (previous year: 7.9%). The weighted average lease term (WALT) of all properties of 2.9 is largely influenced by the remaining lease term of 2.1 years of our largest tenant.
Portfolio details
Our major tenants at a glance
Successful lettings and value-creating repositioning of spaces
The portfolio benefited from reletting of vacant spaces, the extension of existing tenancies and planned expansion programmes have developed favourably during the financial year.
In Bern a smaller area of 125 m2 was let to a local planning office. In addition, two long-standing tenants in the property exercised their option to extend their leases. We also negotiated new leases with existing tenants in Egg and Baden for 800 and 170 square meters respectively at market rents. Active asset management enabled us to let the final available space of 200 square metres in Baden to a successful local architects' office. Thus, three of our six properties are fully let; excluding the property in Bern the letting ratio of our properties stands at 98%.
Rental contract analysis
We began implementing the project to optimise the space in Egg in February 2023 and are fitting out further self-contained office units with shared communal spaces, which will be available for letting from May 2023. The letting successes we have enjoyed in recent months demonstrate that there is demand for attractively presented and flexible space offerings within walking distance of public transport, even in more peripheral locations such as Gewerbestrasse 12/12a in Egg.
A new approach to working environments
Future-proof thanks to flexible office space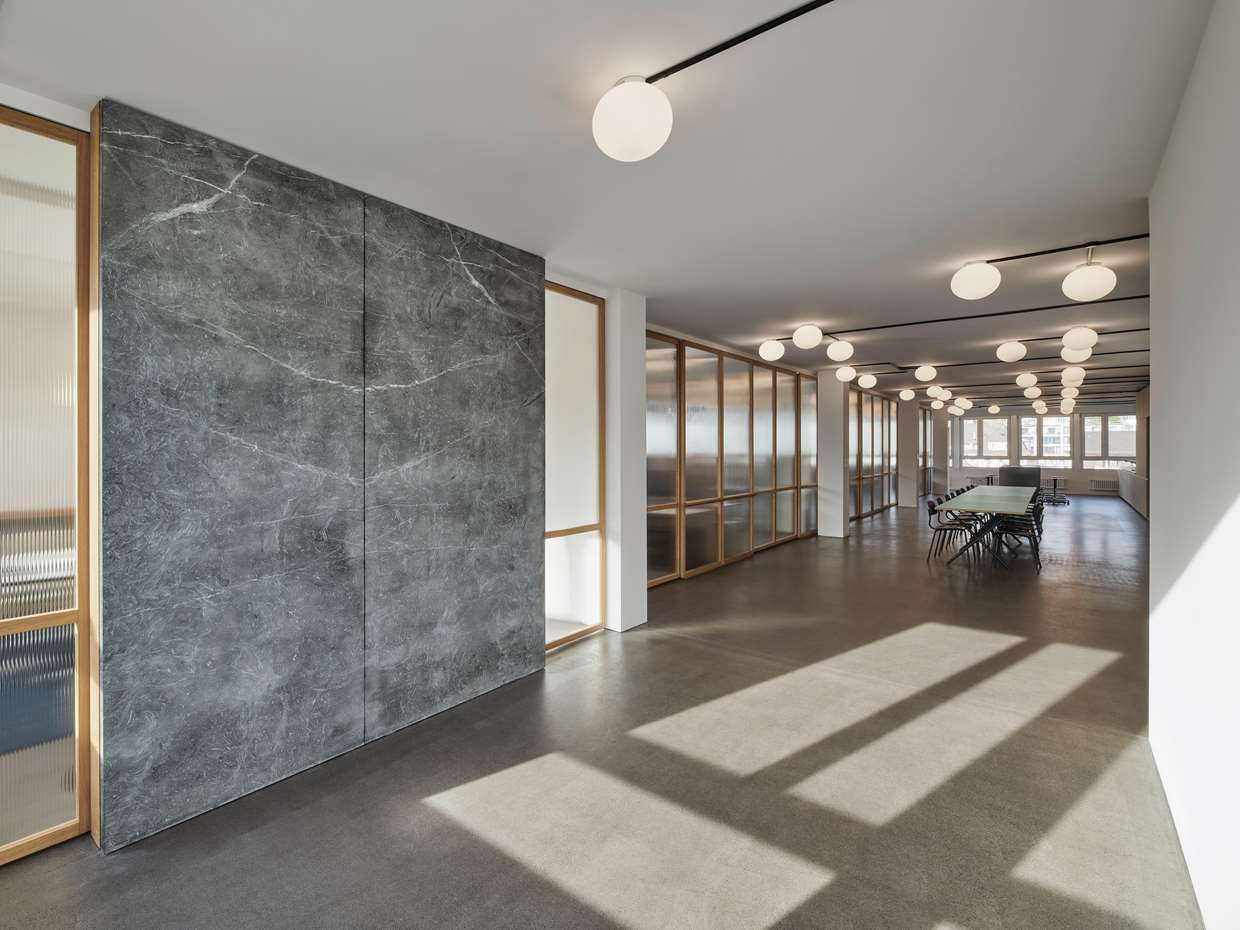 Overall, the market for office space was robust in the financial year just ended. Demand for space in good inner-city locations remains stable and contributes to keep rent levels high. New hybrid forms of working have so far not had a significant impact on the availability of space. However, the trend away from classicly designed office designs towards working spaces that can be used in a more flexible manner is now well established. The quality of Züblin's portfolio is underpinned by the fact that our properties were originally intended for office use in central locations. Thus Züblin's offering has lots of potential to be developed.
Sustainability
Züblin's investment activity has been guided by an awareness of sustainability issues for almost two decades now. This includes using resources responsibly both in ongoing business activities and in construction and renovation projects. As market participants we also strive to promote sustainability in the real estate sector, focusing on helping to establish a balance between environmental responsibility and safeguarding the interests of our stakeholders and society more broadly. We never forget that the success of our sustainability initiatives depends not only on us but also to a large degree on the support of our tenants, suppliers and partners. We seek to address these sustainable objectives through open dialogue and in a spirit of partnership and cooperation.
Sustainability reporting from 2024
As part of the preparations for the first mandatory sustainability report in the 2023/24 annual report, we carried out an analysis of the data collected on our properties in the last financial year. In January 2023 the Board of Directors approved our sustainability mission & values statement. which will be used as the basis to draw up the sustainability strategy, which will determine the sustainability objectives and their implementation.
The analysis of the property data showed that Züblin's early efforts to increase sustainability have created a solid basis to build on.
Three of our properties (Holbeinstrasse 22/30 in Zurich, Gewerbestrasse 12/12a in Egg and Morgenstrasse 136 in Bern) are currently certified to Minergie® standard. The analysis also showed that the CO2 emissions of our properties could be further reduced simply by swapping out four heating systems that currently still use fossil fuels. The CO2 reduction path for our portfolio after including all efficiency measures is in line with the range for the Swiss real estate sector of between 2 and 5 kg CO2 /m EBF*a.
Outlook
The long boom in the Swiss real estate market looks like it has been brought to an end for now by the rise in interest rates that began in mid-2022. Although the rise in interest rates has been relatively moderate in Switzerland owing to the country's low inflation, it could still prompt a price correction in the medium term. With a rather conservative property valuation and financing, we see our portfolio well positioned in this respect.
Züblin remains cautious in this uncertain market environment. Growing the portfolio organically by buying properties is likely to remain challenging. Our focus is therefore on active asset management where we will continue to enhance the future viability of our properties in terms of energy efficiency, property and space quality. In addition we believe in promoting a cooperative relationship with our tenants based on open dialogue.
Strategic focus
Züblin continues to focus on selecting investments in office properties in its established core markets, with an emphasis on our home market of Switzerland. In the current market environment, acquisitions will only be made if they meet the investment criteria we have defined, complement the portfolio in a sustainable manner and ensure the creation of added value in the long term.
Our Investment criteria