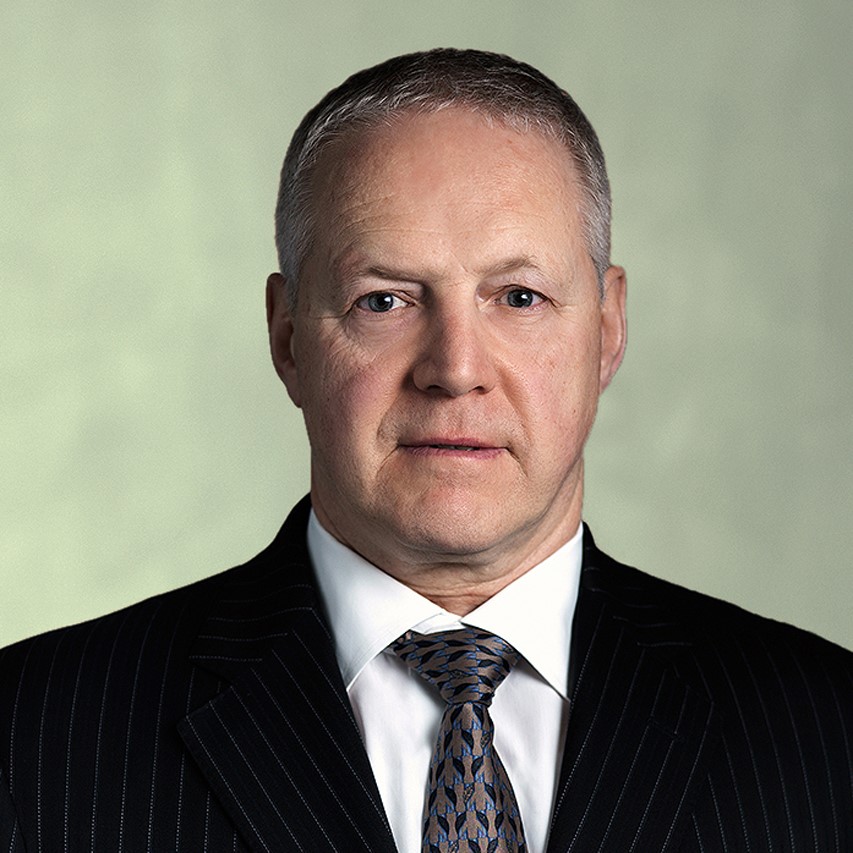 Dr. Iosif Bakaleynik, Chairman / CEO

Letter to our shareholders 
Dear Shareholders
In a stable market environment, Züblin Immobilien Holding AG (Züblin) increased rental income by 0.7% to CHF 8.1 million in the 2017/18 financial year. Positive revaluation effects of CHF 1.5 million, efficiency gains and additional cost savings contributed significantly to the operating result. The company generated EBIT of CHF 4.4 million, while adjusted earnings amounted to CHF 6.6 million. As of 31 March 2018, equity increased to CHF 128.9 million, corresponding to an equity ratio of 61.6%. With this solid foundation, Züblin is well equipped to take advantage of market opportunities that may arise.
Good earnings situation
Züblin can look back on a solid 2017/18 financial year. The results were driven by higher rental income in Switzerland, positive valuation effects and the profitable sale of the German portfolio. The technical loss of CHF 29.3 million reported in accordance with IFRS accounting rules is of little significance operationally. It was due to the one-off effect of reclassifications of CHF 35.9 million of reserves for cash flow hedges and discontinued operations in Germany, as these reserves had to be removed from equity and recycled through the income statement. Therefore only the adjusted result of CHF 6.6 million, which is free from the effects of these reclassifications, gives an accurate picture of the operating performance of the company.

Value realized by sale of properties in Germany
As previously communicated, Züblin realized shareholder value by selling its German portfolio. The sale of twelve office properties to CLS Holding plc was successfully completed in summer 2017 for an attractive price of EUR 152 million. The transaction led to an overall cash inflow CHF 59 million for Züblin.
Market value of portfolio passes CHF 200 million mark
After the sale of the properties in Germany, Züblin now exclusively owns properties in Switzerland. The properties are located in good to very good locations and have an attractive tenant structure. Excluding the Arco West property in Berne, which continues to have an above-average vacancy rate, the occupancy rate is very high at 99%. The total value of the Swiss portfolio at the end of the financial year as of 31 March 2018 increased by CHF 1.5 million compared to the previous year to CHF 200.1 million.
Solid financial position to enable selective expansion of portfolio
In autumn 2017, Züblin concluded a five-year revolving financing facility of CHF 118 million for the Swiss real estate portfolio. This loan agreement with a Swiss cantonal bank replaces the previous syndicated loan for the same amount. Züblin has used funds from the sale of the German portfolio to reduce debt, and has so far drawn only CHF 66 million from the new credit line. With the new credit facility, Züblin is in a position to invest in carefully selected investment opportunities that would benefit its portfolio. The credit line allows portfolio expansion up to an LTV (loan to value) of 60%. Currently, this ratio is at 32.8%.
Dividend of CHF 1.00 per share proposed
Based on the profitable operating result achieved in 2017/18 and stable financial position, the Board of Directors will propose to the Annual General Meeting the distribution of CHF 1.00 per registered share (Namenaktie) from capital reserves. All members of the Board of Directors will stand for re-election for a one-year term of office.
Outlook for fiscal year 2018/19
With a small but profitable portfolio and the new credit facility in Switzerland, Züblin has the flexibility to act on new investment opportunities. In the current stable market with continued low interest rates, the company is well placed to take advantage of selective growth opportunities in order to create shareholder value.
Dr Iosif Bakaleynik
Chairman and Chief Executive Officer
Roland Friederich
Chief Financial Officer